Pop links: Elvis Costello Spectacle, Dr. Who calendar, more Space Pirate, Supergirl preview and more!
The New York Times
checks out
Elvis Costello's new music interview show, "Spectacle," which debuts on the Sundance Channel this Wednesday.
Stylistically it is a blend of "The Dick Cavett Show," "Inside the Actors Studio" and "Charlie Rose," with singers like Tony Bennett, Lou Reed, Rufus Wainwright and Smokey Robinson discussing their history and influences at length.
-----
The BBC's annual Doctor Who online advent(ure) calendar is
up
!

-----
A Cincinnati
radio station
TV station has
changed
its call letters to WKRP. There's no Johnny Fever on staff, however.
-----
Steve Buscemi may
star
in a Martin Scorsese-produced series on HBO.
Written by Terrence Winter and to be directed by Scorsese, "Boardwalk Empire" is based on Nelson Johnson's nonfiction book, which chronicles the 1920s origins of Atlantic City, New Jersey.

Buscemi would play Nucky Johnson, a cunning businessman who runs a liquor distribution ring at the onset of Prohibition.
-----
Via
Occasional Superheroine
: The
not-so-original origin
of Emily the Strange.
-----
Pappy
presents
another Star Pirate adventure.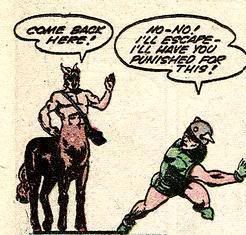 -----
Read about 20 pop song
references
in "Doctor Who."
* 4. I Am The Walrus (The Beatles) – The Three Doctors

Okay, you don't actually hear a sample, but when guesting Doctor 2 (Patrick Troughton) tries to explain who he is in relation to incumbent Doctor 3 (Jon Pertwee) he states "I am he and he is me," to which baffled yet fab'n'groovy Jo Grant replies "And we are all together, goo goo coo choo?" She explains it's a song by the Beatles, and recorder-clutching Troughton is delighted - "Oh, how does it go?" putting it to his lips. Sadly the exciting drama of evil reality-eating antimatter, which looks a bit like Space Blancmange, cuts short the music lesson.
-----
Hey, there's a new Guns'n'Roses album out.
Where's my Dr. Pepper?!

-----
Newsarama
previews
the pretty fun-looking
Supergirl: Cosmic Adventures in the Eighth Grade
#1.