DARK TOWER: THE LONG ROAD HOME #4 (of 5)
Written by PETER DAVID & ROBIN FURTH
Penciled by JAE LEE & RICHARD ISANOVE
Cover by JAE LEE & RICHARD ISANOVE
Variant Cover by RON GARNEY & KLAUS JANSON
Sketch Variant Cover by JAE LEE
As Roland's spirit floats through todash space it is irresistibly drawn to End-World and the court of the Crimson King himself! There the young gunslinger comes face-to-face with the very embodiment of evil in its own domain. And for the last of the line of Eld there may be no way out. Meanwhile, on Mid-World, Alain and Cuthbert desperately struggle to protect Roland's unconscious form, and themselves, against a pack of ravening wolves.
40 PGS./Cardstock Cover/Parental Advisory…$3.99
CRIMINAL #4
By Ed Brubaker and Sean Phillips
A woman in trouble, friends on the run from cops and mobsters, and a secret no one is prepared to face!
All this and more await readers in the beginning of a hard-hitting new noir tale "Bad Night" Part 1 of 4, as CRIMINAL's new expanded format keeps the hits coming!
Five years ago, Jake was a happy family man, long-retired from the life of crime he grew up in, and then the police made him the prime suspect in a horrible crime and ripped his life apart. Now, years later, Jake is less than a shadow of his former self, a hopeless insomniac who walks the city streets at night. But one night, he walks into the wrong place at the right time, and his whole life changes again… For the better or the worse, is the question.
And on top of this longer-than-usual length main story, CRIMINAL now features an expanded back-pages section, as well – with articles by Brubaker and other top crime writers, from novelists to screenwriters to comic writers. These noir articles have become a popular piece of the CRIMINAL package, and are something that can only be found in the comics, not in any collections.
So don't miss out on the start of a new story arc in the most acclaimed crime comic on the stands!
40PGS/Mature Content/No Ads... $3.50
SKAAR: SON OF HULK #1
Written by Greg Pak
Pencils & 50/50 Cover by RON GARNEY
50/50 Variant Cover by Carlo Pagulayan
Variant Cover by BORIS VALLEJO AND JULIE BELL
Born in fire. Raised by monsters. Destined to destroy. On an alien planet shattered by war, no one is stronger than Skaar, the savage Son of Hulk. But as a Fillian warlord, an Imperial princess, and a mysterious Earthman spread chaos through the wastelands, will Skaar save the puny survivors -- or smash them? Another epic fever dream from Greg Pak, writer of "Planet Hulk" and World War Hulk" -- featuring the return of legendary Hulk artist Ron Garney!
32 PGS./Rated T+ …$2.99
SKY DOLL #2 (of 3)
Written by BARBARA CANEPA & ALESSANDRO BARBUCCI
Pencils by ALESSANDRO BARBUCCI
Cover by ALESSANDRO BARBUCCI & BARBARA CANEPA
The internationally acclaimed best seller continues! Finally free from her life of servitude, Noa, our sexy Sky Doll, finds that the missionaries who helped free her may not have her best interests in mind. When the group arrives on an underwater world for a "pit stop", Noa discovers she may have been left out to dry. But she's not just some "wet behind the ears" android as she proves she knows her way around weapons and isn't afraid to use them to insure she's not soon drowning in a watery grave!
64 PGS./Mature …$5.99
The Soleil Comics may only be sold in English North America: United States, Canada, Mexico and their territories and possessions.
MARVEL ILLUSTRATED: THE THREE MUSKETEERS #1 (of 6)
Written by ROY THOMAS (BASED ON THE NOVEL BY ALEXANDRE DUMAS)
Penciled by HUGO PETRUS
Cover by GERALD PAREL
Paris, 1625. A young man called d'Artagnan, after a series of misadventures, attempts to join the King's elite fighting force-The Musketeers! Joined by Porthos, Aramis and Athos, the four make short work of the Crown's adversaries. But little do they know, the evil Cardinal Richelieu is creating a counter force to the Musketeers, one which may soon challenge the power of the French throne itself! The latest title in the Illustrated line reunites the creative team which brought you the much-lauded adaptation of The Man in the Iron Mask. All for one and one for all!
32 PGS./Rated A …$2.99
MARVEL ILLUSTRATED: MOBY-DICK #5 (of 6)
Written by ROY THOMAS
(BASED ON THE NOVEL
BY HERMAN MELVILLE)
Penciled by PASCAL ALIXE
Cover by JOHN WATSON
At last, Ahab's single-minded obsession is rewarded: the tell-tale spout of Moby-Dick has been spotted! With every whale boat on the Pequod launched in pursuit, Ahab and his Filipino crew lead the charge. But the wily whale is not to be undone, violently surfacing under Ahab's boat and capsizing it! Is this truly the end for Ahab and his twisted voyage into madness?
32 PGS./Parental Advisory …$2.99
MARVEL ILLUSTRATED:THE ILIAD #7 (of 8)
Written by ROY THOMAS
(BASED ON THE EPIC POEM
BY HOMER)
Penciled by MIGUEL ANGEL
SEPULVEDA
Cover by PAOLO RIVERA
Reconciling himself to Agamemnon in the wake of Patroclus' death, Achilles goes on a rampage, slaughtering Trojan soldiers. Achilles nearly takes the city himself until he is challenged by Prince Agenar, actually Apollo in disguise. Looking down on the battlefield Zeus himself rescinds his injunction against divine interference and the gods join the struggle once more, shaking the heavens with the sudden unleashing of their
awesome power!
32 PGS./Rated T+ …$2.99

ANITA BLAKE, VAMPIRE HUNTER: GUILTY PLEASURES #12 (of 12)
Written by LAURELL K. HAMILTON
Adapted by JESSICA RUFFNER
Pencils & Cover by RON LIM
This is it! The comic series adapting Laurell K. Hamilton's bestselling novel Guilty Pleasures comes to its pulse pounding conclusion! The first startling book of the Anita Blake series ends here! Who has been slaughtering the vampires? Can Anita stop them? Who will live? Who will die? Who will remain undead? It all comes to a head here, as the titular vampire hunter and her dangerous ally Edward face off against the forces of evil. Don't miss it!
32 PGS./Parental Advisory …$2.99
LORDS OF AVALON: SWORD OF DARKNESS #5 (of 6)
Written by SHERRILYN KENYON
Adapted by ROBIN FURTH
Pencils & Cover by TOMMY OHTSUKA
As the ancient prophecies foretold, Seren now carries a child destined to become the next Penmerlin. But the unborn baby's power is so strong that Seren can no longer hide from the forces of Darkness. Wherever she goes, the demons of Camelot can find her. Will Morgen Le Fey capture Seren and force her child to become the slave of Darkness, or will Lord Kerrigan betray the evil he has served for centuries so that he can help the young weaver escape? Find out in the penultimate issue of Sherrilyn Kenyon's highly acclaimed Arthurian fantasy, Sword of Darkness.
32 PGS./Parental Advisory …$2.99
ULTIMATE FANTASTIC FOUR #55
Written by MIKE CAREY
Penciled by TYLER KIRKHAM
Cover by BILLY TAN
Are you ready for Ultimate Salem's Seven? Who are they, and what do they want with the Human Torch? Unfortunately, Johnny and the rest of the FF are dealing with a troubling enemy of their own at the Baxter Building, as the enigmatic woman known as Agatha Harkness introduces her new regime. There are mysteries aplenty to plague our foursome, threatening to tear them apart from without and within!
32 PGS./Rated A …$2.99
ULTIMATE ORIGINS #1 (of 5)
Written by BRIAN MICHAEL BENDIS
Penciled by BUTCH GUICE
Cover by SIMONE BIANCHI
Variant Cover by MICHAEL TURNER
This is it! The story that finally reveals the conspiracies behind the entire Ultimate Universe! When they first met, Bruce Banner mysteriously warned Spider-Man that "Everything is connected." Now it's time to discover the jaw-dropping secrets that men have fought and died to protect. From the dark days of World War II to the frightening present, journey through history to learn what's really behind the Super Soldier and Weapon X programs-and how heroes such as Captain America, Nick Fury and Wolverine have more in common than codenames and costumes. The dream team of Brian Michael Bendis and Butch Guice (CAPTAIN AMERICA, IRON MAN) unite for the first time for the Ultimate series of the year that is a must-read lead-in to ULTIMATUM!
32 PGS./Rated T+ …$2.99
ULTIMATE SPIDER-MAN #123
Written by BRIAN MICHAEL BENDIS
Pencils & Cover by STUART IMMONEN
Venom returns in part 1 of ÒWar of the SymbiotesÓ! When Spidey's most fearsome foe strikes, it looks bad for the outmatched web-slinger, but Silver Sable and her Wild Pack may turn the tide! Have they come to save Spider-Man or is their motive something more sinister? Plus: this story adapts, expands and incorporates the hit Ultimate Spider-Man video game (which Brian Michael Bendis just happened to co-write) into Ultimate Spider-Man continuity! So be like Venom and return to ULTIMATE SPIDER-MAN to find out why folks like Wizard are saying it's Òthe best Spider-book on the stands right now.Ó
32 PGS./Rated A …$2.99
ULTIMATE X-MEN #95
Written by ARON COLEITE
Penciled by MARK BROOKS
Cover by GABRIELE DELL'OTTO
HEROES writer Aron Eli Coleite continues his run - and introduces a team of X-Men like you've never seen before! Who are Ultimate Alpha Flight? What do they want with Northstar? What is Colossus willing to do to get him back? And just wait until you see that last-page shocker!
32 PGS./Rated T+ …$2.99
AMAZING SPIDER-MAN #561
Written by "Dandy'" DAN SLOTT
Pencils & Cover by "Many Fingered" MARCOS MARTIN
Peter Parker: Paparazzi! Part 3 of 3
"Photo Finished"
They say a picture's worth a thousand words... Well, for Peter Parker, the right picture is worth a million bucks! And what he does with it is really gonna change his life! This is a big one, Spidey Fans! We've got shake ups and break ups! Fake outs and freak outs! And a fight to the finish with one of Spider-Man's strangest foes: the fiendishly foldable PAPER DOLL! Miss this one, Marvelite, and you'll miss out on the BEST mystery guest of the YEAR! Here's a hint...she's a redhead!
32 PGS./Rated A …$2.99
AMAZING SPIDER-MAN #562
Written by "Bumblin'" BOB GALE
Pencil and Cover by "Maladjusted" MIKE McKONE
It's Web-Slinger vs. Wall-Crawler as artist extraordinaire Mike McKone (FF, The Exiles) joins writer Bob Gale to answer the
question - who is ÒThe Other Spider-Man?Ó It ain't comin' down to another clone saga is it? If so, send all complaints
to 1994!
32 PGS./Rated A …$2.99
AMAZING SPIDER-MAN #563
Written by "Burpy" BOB GALE
Pencil and Cover by "McLovin'" MIKE McKONE
Remember that joke that starts, ÒSo Spider-Man walks into a bar, and…?Ó Well, when it's the villain-filled Bar With No Name, it's no joke - it's a barroom brawl as only Mike McKone can draw it! And that's only the beginning of one of the most maddening nights in Spidey's life! Throw in The Enforcers, The Bookie, and a climax at Coney Island, and you've got a recipe for the nuttiest Spider-Man story this year. Gale didn't tell us what he was drinking when he wrote it, but it must have been pretty good stuff!
32 PGS./Rated A …$2.99
SPIDER-MAN FAMILY #9
Written by PAUL TOBIN
Art by DEREC AUCOIN
Cover by SALVA ESPIN
Spider-Man, the friendly neighborhood…chaperone? When the S.H.I.E.L.D. helicarrier races off to fight a hostile UFO, Nick Fury asks (okay, tells) Spider-Man that he needs to watch after Bruce Banner. Now all Spidey needs to do is convince a city full of assorted thieves and felons (and…DANG…Dr. Octopus!) to KEEP IT DOWN for the day, cuz, you know, this is the guy that turns into the Hulk. PLUS: the story no one thought they would see, the debut of all-new backup feature ÒMr. & Mrs. Spider-ManÓ! In this first installment, using their individual talents, Peter and Mary Jane Parker join forces to prevent the Lizard from destroying his own family.
104 PGS./Rated A …$4.99

AMERICAN DREAM #3 & 4 (of 5)
Written by TOM DEFALCO
Penciled by TODD NAUCK
Cover by RON FRENZ
ÒShattered DreamÓ
Accused of being a traitor, American Dream falls into a deadly trap, discovers a terrible secret and faces the most horrible transformation of all!
32 PGS. (each)/Rated A …$2.99 (each)
AMAZING SPIDER-GIRL #21
Written by TOM DEFALCO
Pencils & Cover by RON FRENZ
ÒA Brand New MAY!Ó
Part 2 of 5
As Peter Parker and Normie Osborn try to learn the identity of the brand new May, Spider-Girl investigates Humanity First and battles a brand new super-foe.
32 PGS./Rated A …$2.99
CLANDESTINE #5 (of 5)
Written by ALAN DAVIS
Pencils & Cover by ALAN DAVIS
The Destine family is caught between the Cross-Time Excalibur and the Inhumans of another reality! While at home, Griffin's machinations harvest Destine DNA in a bid to live forever! And patriarch Adam Destine returns to where it all began--Yden.
32 PGS./Rated T+ …$2.99
AVENGERS FAIRYTALES #4 (of 4)
Written by C. B. CEBULSKI
Penciled by RICARDO TERCIO
Cover by CLAIRE WENDLING
We're not in the Marvel Universe anymore, Toto! When young Jennifer Walters is swept away and carried to the mysterious land Oz, she discovers that turning green is only the beginning of her troubles. But she follows the Rainbow Road and encounters a familiar cast of characters more in need of help than her; a rusty old Iron Man in need of a heart, a scarecrow whose lost his hammer and maybe his mind, and a brave old warrior who simply needs to find his courage. And just when they thought things couldn't get any worse, the Scarlet Witch of the West arrives to utter three ominous words... "No More Munchkins!Ó
32 PGS./Rated A …$2.99
AVENGERS/INVADERS #2 (of 12)
Written by JIM KRUEGER & ALEX ROSS
Penciled by STEVE SADOWSKI
Cover by ALEX ROSS
Variant Cover by MIKE PERKINS
The cross-time team-up of the year continues with the award winning team behind EARTH X, Justice and Project:
Superpowers! With World War II's greatest heroes mysteriously transported to 2008, it takes the Mighty Avengers to bring them in before the world realizes that the Invaders are back…including the original Captain America. But will Iron Man and S.H.I.E.L.D. have enough firepower to hold them…or do the Invaders have everyone just where they want them?
32 PGS./Rated T+ …$2.99
BLACK PANTHER #38
Written by REGINALD HUDLIN
Penciled by FRANCIS PORTELA
Cover by ALAN DAVIS
ÒBACK TO AFRICA,Ó CONCLUSION
Rumble in the jungle, as the Black Panther squares off against the one foe he's never defeated: Killmonger. And the stakes have never been higher: Wakanda.
32 PGS./Rated T+ …$2.99
GHOST RIDER #24
Written by JASON AARON
Art by TAN ENG HUAT
Cover by MARKO DJURDJEVIC
What do you get when you take a maximum security prison filled with sinners of every sort and add a bonafide Spirit of Vengeance to the mix? A hot time in the old hoosegow, that's what you get. In this first part of an all-new arc, Blaze goes behind bars, still hell-bent on vengeance, still looking for answers. But is he prepared to face the mysterious man in cell 17? The one with the sign on his door that says "Do not open under any circumstances"? The one who just got set loose? Uh oh. Bring your riot gear. Featuring art by Tan Eng Huat (Silver Surfer: In Thy Name).
32 PGS./Parental Advisory …$2.99
CAPTAIN AMERICA #39
Written by ED BRUBAKER
Pencils & Cover by STEVE EPTING
Okay, what the heck is going on here? Is that two guys in Captain America outfits? Yeah, it is.
More than that, we cannot say.
The epic Death of Captain America continues in Part Three of "The Man Who Bought America" by the acclaimed team of Brubaker and Epting.
32 PGS./Rated T+ …$2.99
DAREDEVIL #108
Written by ED BRUBAKER & GREG RUCKA
Penciled by MICHAEL LARK
Cover by MARKO DJURDJEVIC
"Cruel and Unusual" Part Two of Four
Matt Murdock throws himself into what is probably a losing case, a last-minute death-penalty appeal...while Dakota North and
Daredevil discover people are willing to kill to keep them from pursuing this investigation. But is it the mob...or the government? The multiple-Eisner-nominated team of Ed Brubaker and Michael Lark is joined by the acclaimed Greg Rucka co-writing!
32 PGS./Rated T+ …$2.99
IMMORTAL IRON FIST #16
Written by MATT FRACTION
Art & Cover by DAVID AJA
ÒHappy Birthday, DannyÓ Part 1 of 1
In the wake of THE SEVEN CAPITAL CITIES OF HEAVEN, Danny Rand has been busy reinventing and rebuilding his life. Who is he, as a man? As a hero? What does the Iron Fist legacy really mean in this day and age? Where does Danny Rand go next? And just what exactly is up with him and Misty? Are they, like, a thing, or, or what? And why might the 33 candles on Danny's cake mean the end for the Immortal Iron Fist?
32 PGS./Rated T+ …$2.99
ETERNALS #1
Written by CHARLES KNAUF & DANIEL KNAUF
Art & 50/50 Cover by DANIEL ACU"A
50/50 Variant cover by OLIVIER COIPEL
The Gods Walk the Earth! In ancient times, the Celestials, a race of cosmic giants, came to Earth and created a race of powerful immortal beings: The Eternals! For a time, primitive man worshiped them as gods, but eventually they disappeared. Now, they have returned! One of the Celestials now towers over Golden Gate Park, standing in judgment over the Earth… but does he bring the end of the world? Following up on Neil Gaiman's best-selling series (and a recent appearance in the Incredible Hercules), join writers Charles and Daniel Knauf and rising superstar artist Daniel Acu–a, as Jack Kirby's Eternals return to walk among us!
32 PGS./Rated T+ …$2.99
FANTASTIC FOUR #558
Written by MARK MILLAR
Pencils & Cover by BRYAN HITCH
Who are the New Defenders, and why does their appearance on Earth foretell the eventual extinction of mankind? Who has liberated Doctor Doom from his incarceration awaiting trial, and why? And what's up with Valeria? (Oh, and the Fantastic Four are in it too...)
32 PGS./Rated T+ …$2.99
GUARDIANS OF THE GALAXY #2
Written by DAN ABNETT & ANDY LANNING
Penciled by PAUL PELLETIER
Cover by CLINT LANGLEY
Groot is here! And so is…hey, wasn't he sunk in Antarctica? One day on the job, and our cosmic protectors have already made themselves a major new enemy! But how does that connect to Adam Warlock's mystical past? Could it really be the threat he's spent years trying to deny? And exactly what or who have the Guardians discovered frozen & adrift in space? It can't be...can it? If you're curious, give GUARDIANS a go and find out why critics like ComicAddiction.com say ÒDan Abnett and Andy Lanning are the unsung heroes of the writing staff at Marvel Comics.Ó
32 PGS./Rated T+ …$2.99
HULK: RAGING THUNDER
Written by JEFF PARKER
Art by MITCH BREITWEISER
Cover by GREG LAND
She will be the mightiest champion of her time. He was the mightiest monster of his. What happens when these legends clash will change the course of history for the warrior known as THUNDRA! PLUS, a classic Thundra tale!
48 PGS./Rated A …$3.99
INVINCIBLE IRON MAN #2
Written by MATT FRACTION
Art & Cover by SALVADOR LARROCA
50/50 Variant Cover by BRANDON PETERSON
The new ongoing series - - a perfect jumping-on point for fans of this summer's blockbuster - - continues here! Tony Stark comes face-to-face with his biggest nightmare: an amoral twenty-something biohacker with no loyalties or allegiances to anything other than money and power. Oh, and he also happens to be the son of Tony's greatest nemesis. But what's the exact nature of Zeke Stane's menace? It's something unlike anything Tony has built before...and unlike anything Iron Man has had to beat before. The Golden Avenger faces the fight of his life! By rising star Matt Fraction (PUNISHER WAR JOURNAL, IMMORTAL IRON FIST) with jaw-dropping art by Salvador Larroca (UNCANNY X-MEN)!
32 PGS./Rated A …$2.99
IRON MAN: DIRECTOR OF S.H.I.E.L.D. #30
Written by STUART MOORE
Penciled by ROBERTO DE LA TORRE
Cover by ADI GRANOV
ÒWITH IRON HANDSÓ
Iron Man and the S.H.I.E.L.D. Alpha Team race against the clock to stop the terrorist from Tony Stark's past! But an even greater threat awaits them: the strange weapon called the Overkill Mind -- powered by a man whose only conscious desire is for Tony Stark's death! Part 2 of 4.
32 PGS./Rated T+ …$2.99

IRON MAN: LEGACY OF DOOM #3 (of 4)
Written by DAVID MICHELINIE & BOB LAYTON
Pencils & Cover by RON LIM & BOB LAYTON
Through sorcery and subterfuge Dr. Doom has taken possession of Excalibur, the legendary blade that can cut through anything--including Iron Man! If Shellhead can't stop him from joining the sword with its enchanted scabbard, Doom will become invulnerable as well as invincible, and nothing will be able to prevent his hidden agenda. Don't miss this exciting tale of technology versus magic, which features the premiere appearance of Iron Man's surprising mystical armor, as well as a final page that is, quite literally, an eye-opener!
32 PGS./Rated T+ …$2.99
IRON MAN: VIVA LAS VEGAS #2 (of 4)
Written by JON FAVREAU
Pencils & Cover by ADI GRANOV
With the aid of archaeologist Elsa Bloodstone, Tony Stark has discovered the cause of the plague of reptiles that's crippled the Las Vegas strip! Unfortunately for his armored alter ego, that something is "He Whose Limbs Shatter Mountains, And Whose Back Scrapes The Sun"--Fin Fang Foom!
32 PGS./Cardstock Cover/Rated T+ …$3.99
MARVEL 1985 #2 (of 6)
Written by MARK MILLAR
Pencils & Cover by TOMMY LEE EDWARDS
ÒCLYDE WYNCHAMÓ
Marvel's most deadly villains have a foothold in the real world-but who will believe the only person who knows the truth, when that person is a 13-year old kid named Toby who's read way too many comic books? Fortunately, it seems that Toby has an ally-the Incredible Hulk! Can even the Hulk survive the most titanic throw-down with Juggernaut in comic book history? Find out in this epic clash of super hero action…and ponder-who is Clyde Wyncham?
32 PGS./Cardstock Cover/Rated T+ …$3.99
MARVEL ADVENTURES TWO-IN-ONE #12
MARVEL ADVENTURES HULK #3
MARVEL ADVENTURES SPIDER-MAN #38
64 PGS./All Ages …$4.99
MARVEL ADVENTURES FANTASTIC FOUR #37
Written by CHRIS ELIOPOULOS
Penciled by RONAN CLIQUET
Cover by GRAHAM NOLAN
An irradiated cockroach collective has decided it needs a human host in order to take over the world, but they need a strong one. Who better than the ever-loving
blue-eyed Thing? Can The Thing and the rest of the FF stop the roaches before they take over the Thing's body and then the world? It'll be a comic book you'll bug all your friends to read!
32 PGS./All Ages …$2.99
MARVEL ADVENTURES HULK #12
Written by PAUL BENJAMIN
Penciled by STEVE SCOTT
Cover by DAVID NAKAYAMA
Get ready, fight fans! The ultimate warrior is coming at you live from the Milky Way: the Champion of the Universe! He'll take on Earth's greatest gladiators with the planet itself hanging in the balance. In Earth's corner: the jaw-breaking Juggernaut, daring Doc Samson, the ever-lovin', blue-eyed Thing, and that jade giant, that green goliath...the Incredible Hulk! Are you ready to ruuuumble?!
32 PGS./All Ages …$2.99
MARVEL TWO-IN-ONE #12
MARVEL ADVENTURES AVENGERS #12
MARVEL ADVENTURES IRON MAN #4
64 PGS./All Ages …$4.99
MARVEL ADVENTURES THE AVENGERS #25
Written by JEFF PARKER
Penciled by IG GUARA
Cover by LEONARD KIRK
You're smart. DARN smart. You're so ahead of the curve, you've had your head removed and let your face be broadcast by a tv screen in your chest. That's not just smart, that's Arnim Zola Smart. And if the Avengers try to go up against that, well you can just switch their minds around so they don't know what to do with themselves. Oh Zola, you make M.O.D.O.C. look like a common street thug!
32 PGS./All Ages …$2.99
MARVEL ADVENTURES SPIDER-MAN #40
Written by MARC SUMERAK
Penciled by RYAN STEGMAN
Cover by PATRICK
SCHERBERGER
"Whosoever holds this hammer, if he be worthy, shall possess the power of -- Spider-Man?!?" When our webbed wonder unwittingly aids a devious demi-goddess, his reward is a one way ticket to Asgard. But things start going south as soon as Spidey starts going Norse! Prepare for an epic tale that the bards will sing of for centuries to come (most likely with an occasional unnecessary "thee" or "thou" thrown in for good measure)!
32 PGS./All Ages …$2.99
SPIDER-MAN MAGAZINE #1
Cover by PHIL JIMENEZ
It's Spider-Man from cover to cover as the wall-crawler leaps into his very own ongoing magazine! In addition to full-length comic-book stories, this premiere issue features puzzles and games, pinups, a letters page, and a pull-out poster!
96 PGS./All Ages …$6.99
CIVIL WAR CHRONICLES #12
Written by ED BRUBAKER & BRIAN MICHAEL BENDIS
Penciled by STEVE EPTING & ALEX MALEEV
Cover by STEVE EPTING
Experience CIVIL WAR and its major tie-ins in chronological
order! In CAPTAIN AMERICA #25, find out what happens next in the life of the Sentinel of Liberty! The biggest Cap story that Ed Brubaker and Steve Epting have yet to tell, ÒDEATH OF THE DREAMÓ will stun readers and send shockwaves through the entire Marvel Universe for the next year and it begins here! And in CIVIL WAR: THE CONFESSION, the Eisner Award-winning team that brought you the start of CIVIL WAR with the NEW AVENGERS: ILLUMINATI special presents a heart-wrenching finale that cannot be missed. Two of the Marvel heroes most affected by the shockingconclusion of the war get together one last time. What is said between them will set the course of the Marvel Universe for years to come. This is the confession.
72 PGS./Rated T+ …$4.99
MYTHOS: CAPTAIN AMERICA
Written by PAUL JENKINS
Art and Cover by PAOLO RIVERA
He may be dead, but now you can find out how the man became the legend! Mythos revisits Steve Rogers'
transformation from a weakling with a heart of steel to the Sentinel of Liberty! From the mind of Paul Jenkins and the stunning art of Paolo Rivera comes the origin of CAPTAIN AMERICA!
32 PGS./Cardstock Cover/Rated A …$3.99
POWER PACK: DAY ONE #4 (of 4)
Written by FRED VAN LENTE
Art by GURIHIRU &
COLLEEN COOVER
Cover by GURIHIRU
The Pack's first twenty-four has come to an end, and they've got make sure it's their finest -- not their final hour! But to do that they're going to have to stop the Kymellians from blowing up Earth, thwart a full-on Snark invasion, and break into the heavily-guarded Project: PEGASUS to destroy their dad's out-of-control invention! All at the same time!
32 PGS./Rated A …$2.99
MARVEL COMICS PRESENTS #10
Written by MARC GUGGENHEIM,
IVAN BRANDON, RICH KOSLOW-SKI, & JESSE BLAZE SNIDER
Penciled by FRANCIS TSAI, NIKO HENRICHON, & MARCO CHECCHETTO
Cover by YANICK PAQUETTE
Answers abound, as the secrets of VANGUARD-BLADE, YELENA BELOVA, MICROMAX, DOMINIC FORTUNE-are revealed to STACY DOLAN…and the ever-lovin' THING! Plus, GUARDIAN begins to understand how to utilize his newfound powers, just in time to confront his tormentors, in WEAPON OMEGA. MACHINE MAN's flashbacks continue to cause problems in the real world, and Jesse Blaze Snider and Marco Checchetto brings us a very special tale of the Merc with a Mouth: DEADPOOL!
40 PGS./Rated T+ …$3.99
OMEGA: THE UNKNOWN #9 (of 10)
Written by JONATHAN LETHEM & KARL RUSNAK
Pencils & Cover by FAREL DALRYMPLE & PAUL HORNSCHEMEIER
In the astounding climax of the saga of Omega versus the robot horde, a battle extraordinaire which will leave all our heroes changed, and one of them really and truly dead. The greatest rooftop performance since the Beatles' "Let It Be".
32 PGS./Rated T+ …$2.99
NEW WARRIORS #13
Written by KEVIN GREVIOUX
Penciled by PACO MEDINA
Cover by NIC KLEIN
ÒTHRASHEDÓ Conclusion!
Night Thrasher. He's vanished during the heat of battle. Disappeared while the rest of the team is training. And now he's left members of his team trapped in the lair of a super-villain who's way out their league. And Jubilee is fed up with it. But is she willing to walk out on Night Thrasher when her teammates' lives are at stake?
32 PGS./Rated T+ …$2.99
MOON KNIGHT #19
Written by MIKE BENSON
Penciled by JAVIER SALTARES
Cover by ARTHUR SUYDAM
ÒGOD AND COUNTRY,Ó CONCLUSION
The execution will be televised! Black Spectre's ingenious plan to destroy Moon Knight enters its final phase. As the whole world watches on high-def TV, Moon Knight faces a no-win situation. He's already the poster child for super hero recklessness, but after this, he'll either be dead…or Public Enemy Number One.
32 PGS./Parental Advisory …$2.99
NOVA #14
Written by ANDY LANNING & DAN ABNETT
Penciled by WELLINTON ALVES
Cover by ALEX MALEEV
Continuing one of the wildest Galactus and Silver Surfer stories ever! He's got the power of the entire Nova Force. He's faced down the likes of Sphinx and Annihilus. But is the Human Rocket even in the same league as the Devourer of Worlds and his most famous herald? And what the blue blazes can Nova do when he finds himself the only thing standing between the big G and his next super-sized mega-meal? So, c'mon all you Silver Surfer & Galactus fans, take a chance on this book and find out why IGN.com says ÒNOVA has become one of Marvel's best new series.Ó
32 PGS./Rated T+ …$2.99
SECRET INVASION #3 (of 8)
Written by BRIAN MICHAEL BENDIS
Penciled by LEINIL FRANCIS YU
Cover by GABRIELE DELL'OTTO
Variant Cover by STEVE MCNIVEN
Sketch Variant Cover by STEVE MCNIVEN
THE BLOCKBUSTER EVENT continues. Its Avenger versus Avenger. Hero versus hero! Norman Osborn versus Captain
Marvel?? The Initiative versus an army of Super-Skrulls? Is Tony Stark really a- -? And who's that guy with an eye patch coming to save the day?? And, oh man, who did he bring with him?
32 PGS./Cardstock Cover/Rated T+ …$3.99
MIGHTY AVENGERS #15
Written by BRIAN MICHAEL BENDIS
Penciled by KHOI PHAM
Cover by MARKO DJURDJEVIC
SECRET INVASION TIE-IN!
WHATEVER HAPPENED TO-----? Rewinding the clock to Avengers Dissassembled we reveal how one of the main players in SECRET INVASION was replaced by a Skrull and what the fallout has been. A major SECRET INVASION chapter is here! Oh, but you want to know exactly who we're talking about right? Spoilers, dude!
32 PGS./Rated A …$2.99
NEW AVENGERS #42
Written by BRIAN MICHAEL BENDIS
Penciled by JIM CHEUNG
Cover by ALEKSI BIRCLOT
SECRET INVASION Tie-In!
THE EMPIRE part 3. For 42 issues readers of New Avengers have wondered, who caused the breakout in New Avengers #1 and why? And how was this the real start of the SECRET INVASION? Find out right here!! Special guest artist Jim Cheung returns to these pages for this shocking story.
32 PGS./Rated A …$2.99
AVENGERS: THE INITIATIVE #14
Written by DAN SLOTT & CHRISTOS GAGE
Pencils by STEFANO CASELLI
Cover by MARK BROOKS
SECRET INVASION TIE-IN
"We Have Met the Enemy and He Is Us!"
During the INFILTRATION, a Skrull at the heart of the Camp Hammond said these words: "It won't be long until we have a Skrull in every state! "Now that Skrull stands revealed and the fate of The Initiative, the United States, and Planet Earth hang in the balance. Plus: Former Avenger, Delroy Garret, assumes the mantle and arsenal of Earth's greatest Skrull-Hunter, THE 3-D MAN. He's here to chew bubblegum and kick some Skrull-@$$. And he's all out of bubblegum.
32 PGS./Rated T+ …$2.99
SECRET INVASION: FANTASTIC FOUR #2 (of 3)
Written by ROBERTO AGUIRRE-SACASA
Penciled by BARRY KITSON
Cover by ALAN DAVIS
Part Two [of Three]: "He's Just Not That Into You"
Trapped in the Negative Zone with Franklin and Val, beseiged by monsters, Ben and Johnny are scrambling to get back home before a cosmic anomoly with the power to consume, well, everything swallows Manhattan. But the team's biggest brain, Reed Richards, is nowhere to be found, and the Skrull who infiltrated the FF isn't just any Skrull, it's Johnny's ex, Lyja. Forget worldwide domination, hell hath no fury like a Skrull scorned...
32 PS./Rated A …$2.99
SECRET INVASION: RUNAWAYS/YOUNG AVENGERS #1 (of 3)
Written by CHRISTOPHER YOST
Penciled by TAKESHI MIYAZAWA
Cover by MICHAEL RYAN
The Skrulls are invading and the Runaways and the Young Avengers both have a Skrull on their team. Coincidence? We think not. You two favorite teen teams come together again as the Marvel U is pushed to the brink.
32 PGS./Rated T+ …$2.99
SECRET INVASION: WHO DO YOU TRUST?
Written by ZEB WELLS, BRIAN REED, MIKE CAREY,
JEFF PARKER, & CHRISTOS GAGE
Penciled by LEONARD KIRK, LEE WEEKS, MIKE PERKINS, & more
Cover by PHIL JIMENEZ
SECRET INVASION One-Shot!
Five stories from across the Marvel Universe, illuminating key elements of the SECRET INVASION! Captain Marvel takes a stand! Marvel Boy makes a choice! Wonder Man and the Beast face off! Abigail Brand, Agent of SWORD finds the foe! And the Agents of Atlas enter the fight!
48 PGS./Rated T+ …$3.99
CAPTAIN BRITAIN AND MI: 13 #2
Written by PAUL CORNELL
Penciled by LEONARD KIRK
Cover by BRYAN HITCH
The Skrulls are winning in England. Their mysterious goal there could turn the tide of the invasion. The emergence of the fabled sword Excalibur (once again locked in stone) may lead to salvation. But who can claim the mythic weapon? Pete Wisdom? Spitfire? John the Skrull? The Black Knight ? And what is the fate of Captain Britain?
32 PGS./Rated T+ …$2.99
MS. MARVEL #28
Written by BRIAN REED
Penciled by ADRIANA MELO
Cover by GREG HORN
The SECRET INVASION is here and the Battle for Manhattan has begun. Earth's heroes have been scattered, New York City is under siege and only one hero is left to stand up for humanity -- Carol Danvers -- going to war. All of the frustrations, drama and insecurities of Ms. Marvel's life lead up to this as she takes on an invading horde of Super-Skrulls...and don't put money on anyone green getting out alive!
32 PGS./Rated T+ …$2.99
INCREDIBLE HERCULES #118
Written by GREG PAK & FRED VAN LENTE
Penciled by RAFA SANDOVAL
Cover by JOHN ROMITA JR., KLAUS JANSON & DEAN WHITE
A SECRET INVASION TIE-IN!
The "SACRED INVASION" continues! In order for Hercules and his divine allies to attack the realm of the Skrull gods, they first must pass out of our own Earthly pantheons -- with a fear-fraught voyage through the dimension of NIGHTMARE! What could possibly terrify a god? The Dark Lord of Dreams knows -- and he'll use it to destroy the last, best hope of stopping the Skrull invasion before it even starts!
32 PGS./Rated A …$2.99
MARVEL SPOTLIGHT: SECRET INVASION
Written by JOHN RHETT THOMAS
The infiltration is complete. The SECRET INVASION has begun. Who do you trust? Among the oldest baddies in the Marvel Universe, the Skrulls have decided that now is the time to strike. As the true extent of this infiltration is revealed, and the identities of the heroes the intergalactic shape-shifters have taken over are brought to light, the suspense will be palpable. MARVEL SPOTLIGHT celebrates this eight-part event by Brian Michael Bendis and Leinil Yu with an in-depth account of all things Skrull, featuring insider interviews with the creators involved in SECRET INVASION and its various crossover titles. We'll be criss-crossing Marvel history to tie together all the intrigue and plot twists that will make SECRET INVASION the comics event of the
summer! You can trust us on that. You do trust us, don't you?
32 PGS./Rated T+ …$2.99
newuniversal: shockfront #2 (OF 6)
Written by WARREN ELLIS
Penciled by STEVE KURTH
Cover by BRANDON PETERSON
ÒBREAKSÓ
A charity football game turns into a nightmare when quarterback Jack Magniconte inadvertently kills another player. Is he the newest human to manifest a superpower glyph? And more to the point, will Ken Connell-who himself manifested the
ÒStarbrandÓ glyph-and Izzy Randall-possessor of the ÒNightmaskÓ glyph-reach Magniconte before he's killed in the
government's efforts to stop a superhuman Armageddon? WARREN ELLIS and STEVE KURTH's brilliant re-imagining of the super hero continues.
32 PGS./Parental Advisory …$2.99
THE LAST DEFENDERS #4 (of 6)
Written by JOE CASEY
Penciled by JIM MUNIZ
Cover by PHIL JIMENEZ
After leading a rogue Defenders team into battle, Nighthawk comes face to face with Tony Stark and Henry Gyrich - and…well…they're not called the LAST Defenders for nothing! But can the Defenders get it in gear for one last battle as the mysterious Yandroth makes his move? And what roles do KRANG and the SON OF SATAN play in the Defenders ultimate chapter?
32 PGS./Rated T+ …$2.99
SHE-HULK #30
Written by PETER DAVID
Penciled by VAL SEMEIKS
Cover by MIKE DEODATO
From the pages of INCREDIBLE HERCULES comes…yeah, you guessed it, Hercules! The Lion of Olympus, still wanted for crimes against S.H.I.E.L.D., collides with our bounty-hunting She-Hulk. The question is, given these two combustible characters' current mindset and situation with the law, will they meet as longtime friends…or bitter foes?
32 PGS./Rated T+ …$2.99
THOR: AGES OF THUNDER - REIGN OF BLOOD
Written by MATT FRACTION
Art by PATRICK ZIRCHER
Cover by MARKO DJURDJEVIC
From Ragnarok to Ragnarok, in a cycle that spans the millennia, the pantheon of Asgard lives and dies and is born anew. And with each different form and in each new age, come new adventures, greater challenges…and more dire treacheries! Matt Fraction (THE IMMORTAL IRON FIST) and Patrick Zircher (TERROR, INC.) unspool the further epic tales of Thor's warrior heroism, and the Midgard-quaking intrigues of the gods!
48 PGS./Rated T+ …$3.99
PUNISHER WAR JOURNAL #20
Written by MATT FRACTION & RICK REMENDER
Art by HOWARD CHAYKIN
Cover by ALEX MALEEV
G.W. Bridge's heartbreakers and lifetakers--Domino, Silver Sable and Contessa Valentina Allegra di Fontaine of S.H.I.E.L.D.-- come gunning for The Punisher. Kid Punisher goes on another major rampage. And Jigsaw's noose tightens around Frank's neck as he puts a 100 million dollar bounty on Frank's head. Every bounty hunter in the Marvel U is gonna come gunning for the Punisher and there's only one place for him to run...underground. By Matt Fraction (IMMORTAL IRON FIST, INVINCIBLE IRON MAN) and Rick Remender (Fear Agent, The End League), with art by Howard Chaykin (WOLVERINE, WAR IS HELL: THE E FIRST FLIGHT OF THE PHANTOM EAGLE).
32 PGS./Parental Advisory …$2.99
THE TWELVE #6 (of 12)
Written by J. MICHAEL
STRACZYNSKI
Penciled by CHRIS WESTON
Cover by PAOLO RIVERA
The Laughing Mask--behind bars! Secrets of the Black Widow--revealed! Dynamic Man kicks ass! The Blue Blade bombs out! And the truth behind the origin of underground secret agent Rockman!
32 PGS./Rated T+ …$2.99
YOUNG AVENGERS PRESENTS #6 (of 6)
Written by MATT FRACTION
Penciled by ALAN DAVIS
Cover by JIM CHEUNG
Kate Bishop wants to be a hero. Kate Bishop wants to be a leader. Kate wants to be strong, and proud, and true to her calling. Kate just wants to take care of everybody. Kate just wants to be friends. Kate wants to be stronger than all this. Kate Bishop never wanted anything more than she wants to be a Young Avenger. Kate Bishop wants to be Hawkeye. Here, she finally comes face to face with Clint Barton. Now Kate's gonna have to fight for each and every thing that she wants...especially her name. Wanting something can be miles away from actually earning it. By Matt Fraction
(INVINCIBLE IRON MAN, PUNISHER WAR JOURNAL) and the legendary Alan Davis (CLANDESTINE, EXCALIBUR).
32 PGS./Rated T+ …$2.99
THUNDERBOLTS #121
Written by WARREN ELLIS
Penciled by MIKE DEODATO
Cover by MARKO DJURDJEVIC
As the quartet of villainous telepaths in the basement of Thunderbolts Mountain delivers their final assault against the T-Bolts team, Norman Osborn's already fragile psyche may have cracked for the last time. The Goblin is ready to emerge!
32 PGS./Rated T+ …$2.99
ASTONISHING X-MEN SKETCHBOOK
Written by WARREN ELLIS
Pencils & Cover by SIMONE BIANCHI & SALVADOR LAROCCA
ÒMessiah ComplexÓ pulled the X-Men team together; ÒDivided We StandÓ tore them apart. This July, the X-Men get back to business - with a new base of operations and a new look! See it here first - with this exclusive preview! See the gorgeous costume redesigns for Wolverine, Cyclops, Emma Frost and more by emerging superstar Simone Bianchi (WOLVERINE: EVOLUTION)! This one-shot gives you a first up-close look at the blue-prints for the new ÒX-Men Mansion,Ó courtesy of superstar Salvador Larocca. You won't believe your eyes!
32 PGS./ Rated T+ …$2.99
UNCANNY X-MEN #499
Written by ED BRUBAKER
Pencils & Cover by MIKE CHOI
X-Men: Divided We Stand comes to its shocking conclusion! Cyclops and Emma come face to face against former allies.
Colossus, Wolverine and Nightcrawler scramble to get out of Russia alive. Witness the new status quo for the X-Men that will define their future!
32 PGS./Rated T+ …$2.99
X-MEN: LEGACY #213
Written by MIKE CAREY
Penciled by SCOT EATON
Cover by ALAN DAVIS
Xavier traces his history and the history of the X-Men to the core. What he finds will shock you. And what do Rogue, Gambit and Sebastian Shaw have to do with it?
32 PGS./Rated A …$2.99
X-FACTOR #32
Written by PETER DAVID
Art by PABLO RAIMONDI
Cover by GLENN FABRY
After the recent loss of both Wolfsbane and Layla Miller, and the destruction and evacuation of the former Mutant Town, X-Factor is left questioning their purpose more than ever. At that lowest moment, Val Cooper and the O*N*E* step in, giving the group an ultimatum that will change everything about the team.
32 PGS./Rated T+ …$2.99
CABLE #4
Written by DUANE SWIERCZYNSKI
Pencils & Cover by ARIEL OLIVETTI
Variant Cover by MARKO DJURDJEVIC
The second phase of the war that began in "Messiah Complex" continues! There's nothing better than catching up with an old war buddy, especially after the years have really started to pile up. You can rummage through the bad old days, revel in the glory days, and down quite a few beers on the back porch while the sun slips down over the horizon. But not so for Cable. Because his
old war buddy has shown up with news that everyone he knows or cares about is dead. The battles are over, and they're the
only ones left on the losing side. If that weren't enough, Bishop, their former ally, is just one bullet away from achieving his
objective: killing the baby, and erasing the last shred of hope for mutantkind. All of the battles Cable has won mean nothing. Because suddenly, all of these years later, he's in real danger of losing the war.
32 PGS./Rated T+ …$2.99
WOLVERINE #66
Written by MARK MILLAR
Pencils & Wraparound Cover by STEVE MCNIVEN
Variant Cover by MICHAEL TURNER
ÒOLD MAN LOGANÓ Part 1 (of 8)
MARK MILLAR and STEVE MCNIVEN-who last teamed for the monumental CIVIL WAR-bring us the most important WOLVERINE story of the 21st Century. Nobody knows what happened on the night the heroes fell. All we know is that they disappeared and evil triumphed and the bad guys have been calling the shots ever since. What happened to Wolverine is the biggest mystery of all. For 50 years, no one has heard hide nor hair from him…and in his place stands an old man called Logan. A man concerned only about his family. A man pushed to the brink by the HULK GANG. A man forced to help an old friend-the blind archer, HAWKEYE-to drive three thousand miles to secure his family's safety. Get ready for the ride of your life, Logan.
32 PGS./Parental Advisory …$2.99

X-FORCE: AIN'T NO DOG
Written by CHARLIE HUSTON & JASON AARON
Penciled by JEFTE PALO & WERTHER DELL'EDERA
Cover by BRYAN HITCH
ÒAin't No DogÓ: There will be blood. Gallons of it. Because Cyclops needs only one scalpel for a surgical strike mission and Logan's the ideal man for the job. Tonight, Wolverine flies solo-dressed in black and operating off the grid. And when the night is through, there will be mountains of corpses, and no one to answer to. What could be better? PLUS, this one-shot features a solo Warpath story, as he learns what it really means to go home again.
48 PGS./Parental Advisory …$3.99
YOUNG X-MEN #3
Written by MARC GUGGENHEIM
Penciled by YANICK PAQUETTE
Cover by TERRY DODSON
It's the Young X-Men vs. the new Brotherhood of Evil Mutants! A traitor is revealed and the casualties mount as the team goes to battle. We hope there are Young X-Men left when the smoke clears.
32 PGS./Rated A …$2.99
WOLVERINE: FIRST CLASS #4
Written by FRED VAN LENTE
Art by SALVA ESPIN
Cover by ALAN DAVIS, MARK FARMER, & PAUL MOUNTS
"The Last Knights of Wundagore" (Part 2): Wolverine has been "evolved" out of his berserker instincts...Kitty Pryde has been mutated into a half-cat, half-human creature... And they are all that stands between an unsuspecting Earth and the ravenous hordes of the rampaging
MAN-BEAST!
32 PGS./Rated A …$2.99
X-MEN: FIRST CLASS #13
Written by JEFF PARKER
Art by ROGER CRUZ &
COLLEEN COOVER
Cover by ROGER CRUZ &
GURU eFX
With every news story of the uncanny new people inhabiting our world, more Homo Sapiens grow fearful of a planet dominated by mutants. When really they should be worrying about an Earth dominated by robots! What should you really fear- an X-Man or... a MACHINE MAN?
PLUS: A Colleen Coover cartoon!
32 PGS./Rated A …$2.99

WOLVERINE: DANGEROUS GAME
Written by SIMON SPURRIER & RICK REMENDER
Art by BEN OLIVER & JEROME OPENA
Cover by BOO COOK
With bloodsports banned in the UK, a group of overfed Brit Aristos have relocated to the Louisiana forests. Their aim? To pit themselves (aided only by a vast pack of slavering hounds and their own copious wealth) against a truly worthy foe: a single, terrified fox. Sadly for them, there's more than one furry little critter in the woods tonight…Writer Simon Spurrier (GUTSVILLE, SILVER SURFER: IN THY NAME) and superstar artist Ben Oliver (ULTIMATE X-MEN, GHOST RIDER ANNUAL) present a brandy-swigging one-shot huntfest: 1-part ethical dilemma, 2-parts nationalistic clichŽ, 659 parts insane slice'n'dice-o-rama. Snikt! Also, includes a special back-up story written by Fear Agents' Rick Remender and Jerome Opena!
48 PGS./Parental Advisory …$3.99
WOLVERINE: ORIGINS #26
Written by DANIEL WAY
Penciled by STEPHEN SEGOVIA
Cover by GREG LAND
ÒSON OF XÓ Part 1 (of 2)
The origin of Daken, the son of Wolverine! Decades ago, during his time in Jasmine Falls, Wolverine fathered a child…a child whom he thought died with its mother. But Wolverine was mistaken-the child grew into a man. And that man just may be the deadliest being on the face of the Earth. How did that happen? Find out here!
32 PGS./Parental Advisory …$2.99
GENEXT #2 (of 5)
Written by CHRIS CLAREMONT
Penciled by PARTICK SCHERBERGER
Cover by DOUG GREGORY ALEXANDER
Continuing the adventures of the newest generation of Xavier's School of students in a world where the X-Men premiered in 1963 and aged in real time. This issue, we focus on a member who is the grandson of a familiar mutant hero. He might not like school, but he does enjoy his burgeoning romance with the team's most mysterious member. Unfortunately for them both, her secret past is about rear its cybernetic head.
32 PGS./Rated T+ …$3.99
NEW EXILES #7
Written by CHRIS CLAREMONT
Penciled by TOM GRUMMETT
Cover by MICHAEL GOLDEN
At the start of a new storyline, the New Exiles find themselves in a world that never moved past the age of empires! In a world where super heroes first appeared, oh, some 406 years ago, both politics and science have taken a dramatically different path, landing the Exiles right at the outbreak of war between the British and the French. Meanwhile, one of the Exiles' enemies has been gunning for Psylocke, but what will happen when he comes face to face with…Lady Mandarin?
32 PGS./Rated A …$2.99
ANGEL: REVELATIONS #2 (of 5)
Written by ROBERTO
AGUIRRE-SACASA
Pencils & Cover by
ADAM POLLINA
The secret origin of the X-Men's ANGEL continues here! A single, tiny gene, hiding deep within teenaged Warren Worthington's DNA, sprang to life one day, and changed the world forever. Now Roberto Aguirre-Sacasa explores the never-before-witnessed dawn of Warren's new life as a mutant and hero. Featuring jaw-dropping art by Adam Pollina, who returns to the X-Men in bold, groundbreaking style!
32 PGS./Cardstock Cover/Rated T+ …$3.99
PUNISHER MAX: LITTLE BLACK BOOK
Written by VICTOR GISCHLER
Penciled by JEFTE PALO
Cover by DAVE JOHNSON
Celebrated crime novelist Victor Gischler (Gun Monkeys, Pistol Poets) delivers a blistering one-shot tale of Marvel's greatest vigilante! Vette's little black book is a treasure chest of dark secrets. Movie stars, politicians, gangsters -- they all pay to play. Tonight, she is making a house call…and the Punisher is riding shotgun. Because one of the names in that book is Carlos Ramirez, a powerful Miami drug lord who hides in an impenetrable fortress, and Vette is the Punisher's best ticket inside. Before the night is through, Vette will learn a thing or two about what really lurks in the hearts of men, about the difference between dogs and wolves.
32 PGS./Cardstock Cover/Explicit Content …$3.99

WAR IS HELL: THE FIRST FLIGHT OF THE PHANTOM EAGLE #4 (of 5)
Written by GARTH ENNIS
Penciled by HOWARD CHAYKIN
Cover by JOHN CASSADAY
Kaufmann racks up another kill but the thrill of combat is now gone. Replacements arrive to strengthen the squad but with little training and less experience, they seem easy prey for the deadly pilots of the Hun. Can Kaufmann teach them to survive in the unforgiving skies of war torn Europe? Can he even save himself?
32 PGS./Cardstock Cover/Explicit Content …$3.99

PUNISHER #58
Written by GARTH ENNIS
Penciled by GORAN PARLOV
Cover by TIM BRADSTREET
ÒVALLEY FORGE, VALLEY FORGE,Ó PART 4
Garth Ennis concludes his seminal run on PUNISHER -- in style. An eight-man Special Forces Squad has been tasked to bring down the Punisher, by all means necessary -- honorable men who will be the ultimate test of Frank Castle's skills and his personal code. If anyone deserves Frank's vengeance, it's the men who gave the kill order. Men who'll do anything to destroy the proof of their war crimes. Men who underestimated their target.
32 PGS./Explicit Content …$2.99
HAUNT OF HORROR: LOVECRAFT #1 (of 3)
Written by RICHARD CORBEN
Pencils & Cover by RICHARD CORBEN
Horror comics legend RICHARD CORBEN (HAUNT OF HORROR: EDGAR ALLAN POE) brings you a new 3-issue limited series that offers eerie new spins on the poems and short stories of H.P. Lovecraft. Each issue features three adaptations-beautifully
rendered in black and white with gray tones as only Corben can do it-along with a printing of the original source text by H.P.
Lovecraft. In issue #1, Corben brings you ÒDagon,Ó ÒRecognition,Ó and ÒA Memory.Ó It's classic creepy Lovecraft with a new twist!
32 PGS./Cardstock Cover/Explicit Content …$3.99
KICK-ASS #1 DIRECTOR'S CUT
Written by MARK MILLAR
Pencils and Cover by JOHN ROMITA JR.
The biggest super hero debut of 2008 gets the Director's Cut treatment! The writer of CIVIL WAR and the artist of
WORLD WAR HULK bring you the secret origin of Dave Lizewski: he wasn't the class jock, or the class geek…but he was a comic book fan. And one day, he put on a super hero costume-and got his ass kicked. The complete sold-out first issue is reprinted here, along with ALL-NEW extras: the never-before-seen script, character designs, penciled artwork, and a host of other amazing features!
48 PGS./Mature …$3.99
POWERS #31
Written by BRIAN MICHAEL BENDIS
Art & Cover by MICHAEL AVON OEMING
"Z"
BRAND NEW STORY ARC! NEW FORMAT! HOP ON THE POWERS TRAIN! Who were the Rat Pack of the Powers universe? And was Detective Christian Walker one of them? When the controversial crime fighter only known as Z meets his maker, the investigation reveals a secret chapter of Walker's past. Will Walker's true origin reveal itself to those closest to him? And can they handle it?! Plus: Deena Pilgrim faces her future.
40 PGS./Mature…$3.95
POWERS is TM & © 2008 Jinxworld Inc. All Rights Reserved
KABUKI: THE ALCHEMY HC
Written by DAVID MACK
Penciled by DAVID MACK
Cover by DAVID MACK
Collecting all nine issues of the acclaimed, Eisner Award-nominated KABUKI: THE ALCHEMY series from Marvel's creator-owned Icon imprint - for the first time ever! Readers have been waiting to get the newest KABUKI story in collected form, and this prestige hardcover delivers with loads of extras - including the never-before-seen original ending sequence cut from the single issues, new pages of art, new design pages, a commentary by the author, a Òbest ofÓ letters column and more! A whopping 320 pages, this high-end hardcover features an embossed cover, watermarked end papers, a book mark, a dust jacket with all-new cover art and an introduction by Fight Club author Chuck Palahniuk.
320 PGS./Rated T+ …$29.99
ISBN: 978-0-7851-3249-3
Trim size: oversized
KABUKI: THE ALCHEMY HC
Signed and numbered with an ORIGINAL SKETCH by David Mack! Limited to 500 copies
320 PGS./Rated T+ $59.99
ISBN: 978-0-7851-3311-7
JACK KIRBY'S GALACTIC BOUNTY HUNTERS VOL. 1 TPB
Written by LISA KIRBY & STEVE ROBERTSON
Penciled by MIKE THIBODEAUX
Cover by JACK KIRBY
An All-New series featuring characters and concepts created by Jack ÒKingÓ Kirby! Meet the Berkleys, your typical suburban California family. But when young Garrett Berkley discovers his parents' secret - that the science-fiction stories his father writes aren't fiction at all, but autobiography - he's blasted into a whole new universe of adventure, mystery and danger. Now, Jack Berkley must put down his pen, reassemble his old team and take up the mantle of being a Galactic Bounty Hunter for one final mission! Collecting JACK KIRBY'S GALACTIC BOUNTY HUNTERS #1-6.
256 PGS./Rated T+ …$19.99
ISBN: 978-0-7851-2629-4
MARVEL MASTERWORKS: ATLAS ERA TALES OF SUSPENSE VOL. 2 HC
Written by STAN LEE, LARRY LIEBER & VARIOUS
Penciled by JACK KIRBY, STEVE DITKO, DON HECK,
PAUL REINMAN & REED CRANDALL
Cover by JACK KIRBY
It seems you just can't scare the love of a good 80-foot thing from another dimension out of a Marvel Masterworks fan. We're not one to argue with anyone whose postal code reads ÒUnknownable BeyondÓ - so with regrets to the mailman, prepare your post office box for the likes of Sporr, Gor-Kill, Elektro, the Colossus, Metallo and Kraa the Unhuman! This collection from the beyond is full of more amazing monster firsts than Masterworks we've yet imagined, and there's no evidence better than the first-ever father/son space-monster invasion. Yes, it's none other than the fan-favorite Goom, and Googam, Son of Goom! Complemented by tales of thrilling suspense and sci-fi from Marvel Founding Fathers Steve Ditko and Don Heck, there's a something for anyone and everyone looking for a break from the bounds of reality in TALES OF SUSPENSE! Collecting TALES OF SUSPENSE #11-20.
272 PGS./All Ages …$59.99
ISBN: 978-0-7851-2959-2
MARVEL MASTERWORKS: ATLAS ERA TALES OF SUSPENSE VOL. 2 - VARIANT EDITION VOL. 98
272 PGS./All Ages …$59.99
ISBN: 978-0-7851-2960-8
MARVEL MASTERWORKS: SGT. FURY VOL. 2 HC
Written by STAN LEE
Penciled by DICK AYERS
Cover by JACK KIRBY
Get off your duff, goldbrick, and get ready for another k-ration of the adventures of Nick Fury and his Howling Commandos! From the heart of the Marvel Age Stan Lee and Darlin' Dick Ayers bring you an assortment of WWII adventures that define the ÒWar comic for people who hate war comics!Ó That means it's for you AND everybody else, bunky! Fury and his crack squadron tackle the Axis powers across both the European and Pacific theatres - over land and under sea, from scorching sands of North Africa to the darkest jungles of Burma, there's no order too tall for the Howlers! They'll square off against Baron Strucker and his cadre of Nazi commandos, the Blitzkrieg Squad; meet the young Hans Rooten for the first time; and before you finish turning these pages, one will fall in the line of duty, forever changing the life of Nick Fury. To top it off, we're including the first SGT. FURY ANNUAL, featuring a rare adventure of the Howlers in the Korean War and the story of Fury's promotion to Second Looie! Collecting SGT. FURY #14-23 & ANNUAL #1
240 PGS./All Ages …$54.99
ISBN: 978-0-7851-2928-8
MARVEL MASTERWORKS: SGT. FURY VOL. 2 - VARIANT EDITION VOL. 97
256 PGS./All Ages …$54.99
ISBN: 978-0-7851-2929-5
ANITA BLAKE, VAMPIRE HUNTER: GUILTY PLEASURES VOL. 2 HC
Written by LAURELL. K. HAMILTON & JESS RUFFNER-BOOTH
Penciled by BRETT BOOTH & RON LIM
Covers by RON LIM
The hit adaptation of Laurell K. Hamilton's Anita Blake series continues! What price will Anita pay in order to save her friend's life and solve the Vampire Murders? Will she actually kiss Phillip? How far will Edward go in order to find out where the daytime
resting place of the Master Vampires truly is? Where is Jean-Claude? And most important, who is behind the Vampire Murders? What's next for Anita Blake, you ask? The answers to all of those questions are here! Collecting ANITA BLAKE, VAMPIRE HUNTER:
GUILTY PLEASURES #7-12.
144 PGS./Parental Advisory …$19.99
ISBN: 978-0-7851-2580-8
Trim size: standard
ANITA BLAKE, VAMPIRE HUNTER: GUILTY PLEASURES VOL. 2 HC (DM ONLY)
144 PGS./Parental Advisory …$19.99
ISBN: 978-0-7851-3310-0
MARVEL ZOMBIES 2 HC
Written by ROBERT KIRKMAN
Penciled by SEAN PHILLIPS
Cover by ARTHUR SUYDAM
Forty years have passed and the zombies have come back home after eating just about everything else in the universe. Yum yum! What awaits them back on Earth, though, is beyond anything even these shambling monstrosities could have conceived! The
Marvel characters that became last year's unexpected smash hit are back and more stomach-churning than ever! Collecting MARVEL ZOMBIES 2 #1-5.
128 PGS./Rated T+ …$19.99
ISBN: 978-0-7851-2545-7
Trim size: oversized

ULTIMATE X-MEN VOL. 8 HC
Written by ROBERT KIRKMAN & SEAN MCKEEVER
Penciled by BEN OLIVER, PASCAL ALIXE & YANICK PAQUETTE
Cover by MICHAEL TURNER
This deluxe hardcover collects ULTIMATE X-MEN VOL. 16: CABLE and ULTIMATE X-MEN VOL. 17: SENTINELS, plus extras. In CABLE, if one man is capable of disrupting the carefully controlled world of Charles Xavier's School For Gifted Youngsters, it's this one: Ultimate Cable! He comes from a tragic future to wreak havoc on mutantkind today, and his sinister secrets will shock the X-Men to their very core. It's a huge event in Ultimate X-Men history. Get in on the ground floor. You've been warned. Plus: Delve into the secret life of the X-Men's rivals, Emma Frost's Academy of Tomorrow, in a special bonus story! And in SENTINELS, the X-Men are no more. Long live the X-Men! The man from the future, Bishop, completes his own team of mutants, ready to carry on the legacy of Charles Xavier. And their first task is to stop the attacks of the deadly Sentinels against their kind. And you'll never guess who's behind the attacks - or who the new Ultimate X-Men are! Collecting ULTIMATE X-MEN #75-88.
352 PGS./Rated T+ …$39.99
ISBN: 978-0-7851-3080-2
Trim size: oversized

MARVELS PREMIERE HC
Written by KURT BUSIEK
Penciled by ALEX ROSS
All New Cover by ALEX ROSS
All-new edition! Welcome to New York. Here, burning figures roam the streets, men in brightly colored costumes scale the glass and concrete walls, and creatures from space threaten to devour our world. This is the Marvel Universe, where the ordinary and fantastic interact daily. This is the world of Marvels. Collecting MARVELS #0-4.
248 PGS./Rated A …$24.99
ISBN: 978-0-7851-2784-0
Trim size: standard
MARVELS PREMIERE HC VARIANT EDITION VOL. 13
248 PGS./Rated A …$24.99
ISBN: 978-0-7851-2785-7
MIGHTY AVENGERS VOL. 2: VENOM BOMB PREMIERE HC
Written by BRIAN MICHAEL BENDIS
Penciled by MARK BAGLEY
Cover by FRANK CHO
The ULTIMATE SPIDER-MAN super-team of Bendis and Bagley reunite and just in time for the Avengers' biggest problem ever!
A Venom virus hits the city of New York! A Venom virus! The entire city of New York turns symbiote. Plus, Wonder Man gets
a much needed makeover. All this and Tony Stark gets himself a green-skinned present in a body bag. Collecting MIGHTY
AVENGERS #7-11.
120 PGS./Rated A …$19.99
ISBN: 978-0-7851-2641-6

CAPTAIN AMERICA: THE CHOSEN PREMIERE HC
Written by DAVID MORRELL
Penciled by MITCH BREITWEISER
Covers by TRAVIS CHAREST & MITCH BREITWEISER
Marvel brings you a groundbreaking new vision of Captain America as you've never seen him, in this six-issue Marvel Knights mini-series in the vein of SPIDER-MAN: REIGN and SILVER SURFER: REQUIEM. Steeped in the life-or-death tension of insurrectionist combat, is the young Marine Corporal James Newsom really fighting side by side with Captain America, or is it all in his mind? And is Cap actually…dying? Collecting CAPTAIN AMERICA: THE CHOSEN #1-6, plus the script to issue #1 and an introduction by David Morrell.
160 PGS./Rated T+ …$24.99
ISBN: 978-0-7851-2905-9
Trim size: standard
CAPTAIN AMERICA: THE CHOSEN PREMIERE HC (DM ONLY)
160 PGS./Rated T+ …$24.99
ISBN: 978-0-7851-3292-9
INCREDIBLE HERCULES: AGAINST THE WORLD PREMIERE HC
Written by GREG PAK & FRED VAN LENTE
Penciled by KHOI PHAM, REILLY BROWN, ERIC NGUYEN & BOB LAYTON
Cover by ARTHUR ADAMS
In the wake of WORLD WAR HULK, the Mighty Avengers are hot on the heels of unrepentant renegades Hercules and Amadeus Cho. Driven into a mindless berserker rage by Ares, Herc has become the critical piece of Cho's plan to utterly destroy S.H.I.E.L.D. What is Cho's master plan to wipe out the spy agency…and is he willing to get Herc killed to do it? Guest-starring the Champions of Los Angeles! Yes, seriously. Collecting INCREDIBLE HERCULES #112-115 and Hulk vs. Hercules: When Titans Collide.
136 PGS./Rated A …$19.99
ISBN: 978-0-7851-3312-4
AVENGERS: THE INITIATIVE VOL. 2: KILLED IN ACTION PREMIERE HC
Written by DAN SLOTT
Penciled by STEFANO CASELLI
Cover by JIM CHEUNG
Training is almost over for our cadets. Some will graduate. Some will washout. And, yes, some WILL die! And with the clock ticking on the first class of recruits, get ready to meet the next batch! Including new Marvels, old Marvels, at least one SKRULL and...THE
IRREDEEMABLE GIANT-MAN!? Also, with the Gauntlet out of commission, just wait until you meet Camp Hammond's new Drill Instructor - he's a real Taskmaster! Collecting AVENGERS: THE INITIATIVE #7-13 and ANNUAL #1.
208 PGS./Rated T+ …$24.99
ISBN: 978-0-7851-2868-7
AVENGERS: THE INITIATIVE VOL. 1 - BASIC TRAINING TPB STILL AVAILABLE!
$14.99 (ISBN: 978-0-7851-2516-7)
FANTASTIC FOUR: LOST ADVENTURES BY STAN LEE PREMIERE HC
Written by STAN LEE
Penciled by JOHN ROMITA JR. & JACK KIRBY
Covers by JOHN ROMITA JR. & JACK KIRBY
The comic-book equivalent of a lost Beatles track! Together, Stan Lee and Jack Kirby produced 102 consecutive issues of FANTASTIC FOUR. But there was a 103rd story they'd begun in 1970, but never finished - until now! Working from copies of Jack's penciled pages, Stan Lee and Joe Sinnott reunited to complete the work they started almost four decades ago! Plus: The legendary writer and Fantastic Four co-creator joins forces with artist John Romita Jr. to tell his final story of the team that started the Marvel Age! Collecting FANTASTIC FOUR: THE LOST ADVENTURE and THE LAST FANTASTIC FOUR STORY, plus rare Stan stories from FANTASTIC FOUR #296 and #543.
176 PGS./Rated A …$24.99
ISBN: 978-0-7851-3097-0
FANTASTIC FOUR: LOST ADVENTURES BY STAN LEE PREMIERE HC (DM ONLY)
176 PGS./Rated A …$24.99
ISBN 978-0-7851-3098-7
OFFICIAL HANDBOOK OF THE MARVEL UNIVERSE A TO Z VOL. 3 PREMIERE HC
Written by JEFF CHRISTIANSEN, SEAN MCQUAID, STUART VANDAL,
MIKE FICHERA, MADISON CARTER, MICHAEL HOSKIN, RONALD BYRD, MARK O'ENGLISH, ERIC J. MOREELS, CHAD ANDERSON,
DAVID WILTFONG, JACOB ROUGEMONT, AL SJOERDSMA,
CHRIS BIGGS & RICH GREEN
Cover by TOM GRUMMETT
Continuing the most exciting and comprehensive Marvel Handbook ever assembled! This twelve-volume guide to the Marvel Universe features more than 100 huge entries in each tome! This issue - from Crimson Dynamo (Gennady Gavrilov) to the Elements of Doom! Spotlighting people (Crystal, Cyclops, Daredevil, Dazzler, Deadpool, three Deathloks, three Death's Heads, Dr. Doom, Dr. Octopus, Dr. Strange, Domino, Dracula, Drax, Dust, Echo, Elektra), places (the Daily Bugle, District X), teams (the Defenders), species (Demons, Deviants), alternate realities (Days of Future Past, Earth-A, Earth X) items (the Darkhold) and more!
240 PGS./Rated T+ …$24.99
ISBN: 978-0-7851-3100-7

MARVEL ADVENTURES THE AVENGERS VOL. 6: MIGHTY MARVELS DIGEST
Written by MARC SUMERAK
Penciled by IG GUARA
Cover by LEONARD KIRK
Facing the foes no single super hero could withstand! When global threats surface, they must contend with the combined might of: Captain America! Storm! Iron Man! The Hulk! Giant-Girl! Wolverine! Spider-Man! It's all-ages action in the Mighty Marvel Manner! Featuring the Crimson Dynamo, the Black Widow, the arrival of Ant-Man and more! Collecting MARVEL ADVENTURES THE AVENGERS #20-23
96 PGS./All Ages …$7.99
ISBN: 978-0-7851-2982-0

ASTONISHING X-MEN VOL. 4: UNSTOPPABLE TPB
Written by JOSS WHEDON
Penciled by JOHN CASSADAY
Cover by JOHN CASSADAY
Strap yourselves in, folks! It's Joss Whedon and John Cassaday's final arc on Astonishing X-Men! After the shocking and brain-smashing events of recent issues, the X-Men are off to protect the Earth from its destruction at the hands of the Breakworld. And when it's all over, nothing will ever be the same! No, really, we mean it! Whedon and Cassaday prove they are more than Astonishing: They are unstoppable! Collecting ASTONISHING X-MEN #19-24 and GIANT-SIZE ASTONISHING X-MEN #1.
192 PGS./Rated T+ …$19.99
ISBN: 978-0-7851-2254-8

CAPTAIN AMERICA: THE DEATH OF CAPTAIN AMERICA VOL. 1 TPB
Written by ED BRUBAKER
Penciled by STEVE EPTING
Cover by STEVE EPTING
ÒThe quintessential American super hero is dead.Ó - U.S. News & World Report
Leaping from the final pages of CIVIL WAR, this is the biggest Cap story that Ed Brubaker and Steve Epting have yet to tell -
guaranteed to stun readers and send shockwaves through the entire Marvel Universe! As repercussions ripple outward, the
Winter Soldier finally chooses a side - his own. But what are the Red Skull and his minions up to behind the scenes? Collecting CAPTAIN AMERICA #25-30.
160 PGS./Rated T+ …$14.99
ISBN: 978-0-7851-2423-8

IRON MAN: HAUNTED TPB
Written by DANIEL KNAUF, CHARLIE KNAUF & CHRISTOS GAGE
Penciled by ROBERTO DE LA TORRE, BUTCH GUICE, CARLO PAGULAYAN & HARVEY TALIBAO
Cover by JIM CHEUNG
As the man behind the mask, Tony Stark's life has hit rock bottom. His plans for the super hero Initiative have hit a tragic snag. His former flame, believed dead, is being manipulated by one of his deadliest enemies. Even to his strongest allies, Stark appears to be descending into a mental breakdown while everything around him swirls out of control. Now, with the lives of millions hanging in the balance, Iron Man must fight his way out of the darkness and prevent the Mandarin from releasing a plague that would change humanity as we know it! Plus: S.H.I.E.L.D. has a problem, and her name is Madame Hydra. The leader of the world's deadliest terror organization is also the lawful ruler of Wolverine's old stomping ground: the island nation of Madripoor. Unable to depose her openly, S.H.I.E.L.D. sends in its best man to secretly take her down. His name? Stark...Tony Stark. But with his Extremis powers blocked and his Iron Man armor hovering in orbit for emergencies only, can the Director of S.H.I.E.L.D. survive against enemies like Bloodscream and Roughhouse, who've nearly killed Wolverine himself? Collecting IRON MAN #21-28 and IRON MAN: DIRECTOR OF S.H.I.E.L.D. ANNUAL #1.
232 PGS./Rated A …$26.99
ISBN: 978-0-7851-2557-0

ULTIMATE FANTASTIC FOUR VOL. 10: GHOSTS TPB
Written by MIKE CAREY
Penciled by MARK BROOKS & TYLER KIRKHAM
Cover by MARKO DJURDJEVIC
Red Ghost + Thanos = double death for the FF! Susan Storm - the Invisible Woman - is headed toward a science conference in Siberia when her airplane is mysteriously shot out of the sky! With her survival in doubt, Reed Richards must abandon his completion of the equally enigmatic Cosmic Cube at its most crucial time to confront none other than the Ultimate Crimson Dynamo AND the Ultimate Red Ghost! Who shot down Sue - and can she survive the horrors hiding in the snow? Plus: Ultimate Thanos returns! What has placed the Baxter Building - and a huge chunk of New York City - under siege? Aliens are among us, hunting the greatest force in existence: the Cosmic Cube! And in the race to command this deadliest of weapons, treachery and overkill are the order of the day...even from former friends! Collecting ULTIMATE FANTASTIC FOUR #47-53.
168 PGS./Rated A …$15.99
ISBN: 978-0-7851-2898-4

NEW AVENGERS VOL. 7: THE TRUST TPB
Written by BRIAN MICHAEL BENDIS
Penciled by LEINIL YU & CARLO PAGULAYAN
Cover by LEINIL YU
Who do you trust? In the wake of the superhero Civil War, outlaw Avengers Luke Cage, Spider-Man, Wolverine, Spider-Woman, Dr. Strange and Iron Fist are still fighting the good fight, joined by two new recruits: mistress of mimicry Echo and long-lost Avengers mainstay Hawkeye, now Ronin. But when the heroes uncover evidence of a secret invasion by shape-shifting Skrulls, paranoia starts to tear the team apart. Who can they trust when any one of them might be an alien monster in disguise? Which Avenger betrays the group? And can the embattled rebel Avengers survive when new supernatural crime boss the Hood targets them with an army of super-villains? Find out in this prelude to Marvel's SECRET INVASION saga - guest-starring Deathlok, Tigra and the Mighty Avengers! Collecting NEW AVENGERS #32-37 and NEW AVENGERS ANNUAL #2.
184 PGS./Rated A …$19.99
ISBN: 978-0-7851-2503-7

ETERNALS BY NEIL GAIMAN TPB
Written by NEIL GAIMAN
Penciled by JOHN ROMITA JR.
Cover by JOHN ROMITA JR.
ÒAn intriguing plot and amazing visuals…one of the most entertaining and exciting Marvel titles I've had the pleasure to read in a long while.Ó - Kelvin Green, SilverBulletComicBooks.com
More than thirty-five years ago, comics legend Jack ÒThe KingÓ Kirby returned to the House of Ideas with perhaps his biggest idea of all: the universe of the Eternals! Their creation was the result of Kirby's ceaseless curiosity about the origin of man and his mythologies - but like many of the King's concepts, it was definitely ahead of its time. Flash forward to 2006: Superstar creators Neil Gaiman and John Romita Jr. have boldly taken on these concepts with a loving hand, in the process telling a fresh and crackling fun yarn full of mystery, suspense and majestic power - all with an eye on helping establish Kirby's creations as a vital part of the Marvel Universe once and for all. Against the backdrop of Marvel's CIVIL WAR, the Eternals are being awoken one by one from a strange, waking dream, at once coming to terms with the fact that they are far more than the normal people they have thought themselves to be. They find there is little time to commiserate about such things, however, as they are thrust into a life and death struggle that spans both time and space! Collecting ETERNALS #1-7.
256 PGS./Rated T+ …$24.99
ISBN: 978-0-781-2177-0
WOLVERINE: ENEMY OF THE STATE ULTIMATE COLLECTION TPB
Written by MARK MILLAR
Penciled by JOHN ROMITA JR. &KAARE ANDREWS
Cover by JOHN ROMITA JR.
ÒI haven't enjoyed Wolverine this much since the Claremont & Byrne X-Men days…Millar is at the top of his game, and John Romita Jr. is doing the best work of his career.Ó
- David S. Goyer, screenwriter of Batman Begins & Blade
The complete epic, available for the first time in softcover!
Brainwashed by the ninjas of the Hand, Wolverine slices and dices his way through foes and friends alike, ultimately resulting in the death of an X-Man! Captured and reprogrammed, Wolverine is sent against his former masters - but amid an orgy of death and destruction, is even the fiercest mutant alive a match for the deadly stare of the Gorgon?! Collecting WOLVERINE #20-32.
352 PGS./Parental Advisory …$29.99
ISBN: 978-0-7851-3301-8
ETERNALS BY JACK KIRBY BOOK 1 TPB
Written by JACK KIRBY
Penciled by JACK KIRBY
Covers by JACK KIRBY
Jack Kirby reveals a secret history of heroes and horrors as humanity's cousins, the Eternals and the Deviants, vie to inherit the Earth! It's a time of titans, terror and time travel as only the King could conceive - collected across two softcover volumes! Collecting ETERNALS #1-11.
208 PGS./All Ages …$24.99
ISBN: 978-0-7851-3313-1
HOUSE OF M: AVENGERS TPB
Written by CHRISTOS GAGE
Penciled by MIKE PERKINS
Cover by MIKE PERKINS
Return to the world of the hit House of M series, where mutants rule the earth and familiar heroes lead shocking, unfamiliar lives! See the history of this alternate reality revealed for the first time! Follow Luke Cage as he goes from wrongly-convicted prisoner to super-powered fugitive - and assembles the band of rebel freedom fighters who will come to be known as the Avengers! Featuring Hawkeye, Iron Fist, Moon Knight, Tigra, Mockingbird and more than a few surprises! The team behind the acclaimed Union Jack, Christos (World War Hulk: X-Men) Gage and Mike (Captain America) Perkins, reunite to bring you Marvel's heroes and villains in a world where anything can happen - and does! Collecting HOUSE OF M: AVENGERS #1-5.
120 PGS./Rated T+ …$13.99
ISBN: 978-0-7851-2750-5

SILVER SURFER: IN THY NAME TPB
Written by SIMON SPURRIER
Penciled by TAN ENG HUAT
Cover by MICHAEL TURNER
The Silver Surfer delves alone into the furthest depths of the void - tangling with organ-stealing pirates, demonic beasts and a race of alien aristocrats. Everyone's favorite Cosmic Wanderer discovers that even in the midst of a galactic utopia, horror is never far away. Featuring electrifying artwork by the dynamic Tan Eng Huat (Doom Patrol, Batman) and an endlessly inventive script by Simon Spurrier - the writer behind the sold-out Gutsville! Collecting
SILVER SURFER: IN THY NAME #1-4.
96 PGS./Rated A …$10.99
ISBN: 978-0-7851-2749-9
MARVEL ATLAS TPB
Written by MICHAEL HOSKIN, STUART VANDAL, ANTHONY FLAMINI & ERIC J. MOREELS
Penciled by ELIOT R. BROWN
Cover by STAZ JOHNSON
Revealed at last - the complete map to Marvel's Earth! A massive guide to the diverse corners of places real and imagined: Dr. Doom's kingdom of Latveria! Silver Sable's nation Symkaria! The Scarlet Witch's native Transia! The Black Panther's royal Wakanda! Ka-Zar's distant Savage Land! From realms as familiar as your home country to the nations of underwater Atlantis and underground Lemuria! All brought to vibrant life by the illustrations of the legendary Eliot R. Brown. Collecting MARVEL ATLAS #1-2.
144 PGS./Rated A …$14.99
ISBN: 978-0-7851-2998-1
HULK: WWH - DAMAGE CONTROL TPB
Written by DWAYNE MCDUFFIE &
GREG PAK
Penciled by SALVA ESPIN &
RAFA SANDOVAL
Cover by GREG LAND
World War Hulk is over. But the Aftersmash has just begun. Heroes and monsters rise and fall as the events of World War Hulk reverberate through the blasted ruins of New York City with goliath impact in a massive story featuring the Warbound, the Renegades, Heroes for Hire, Iron Man, Tom Foster and Damage Control. And yes, smashing will be involved. Plus: We don't know if you heard, but Hulk came back to earth and made a HUUUUUUUUGE mess. Who's S.H.I.E.L.D. gonna get to clean it up? DAMAGE CONTROL, the roughest, toughest dilapidated dirt dogs this side'a the universe. If anyone can clean up the aftereffects of World War Hulk, they can. But while they're picking up the pieces, they find that the war…may not be over. Collecting WORLD WAR HULK: AFTERSMASH and WWH AFTERSMASH: DAMAGE CONTROL #1-3.
112 PGS./Rated T+ …$12.99
ISBN: 978-0-7851-2388-0
THE ZOMBIE: SIMON GARTH TPB
Written by KYLE HOTZ &
ERIC POWELL
Penciled by KYLE HOTZ
Cover by KYLE HOTZ
The last time we saw Simon Garth, the bank teller single-handedly stopped a gang of murderous robbers and got shot, bitten by zombies and med-evac-ed straight into Army custody for scientific experimentation as death and the necrotic infection overtook him fast. No problem, right? Find out how Simon got out of THAT one - assuming he did - and check out his further adventures battling the undead - unless, that is, he's one of them now - in a brutal, gory, disgusting…awesome re-imagining of one of Marvel's strangest horror heroes, that could only be dreamed up by artist/co-writer Kyle Hotz (ZOMBIE) and Eric Powell (The Goon)! Collecting THE ZOMBIE: SIMON GARTH #1-4.
96 PGS./Explicit Content …$13.99
ISBN: 978-0-7851-2751-2
ZOMBIE TPB STILL AVAILABLE!
$13.99 (ISBN: 0-7851-1913-2)
TERROR, INC. TPB
Written by DAVID LAPHAM
Penciled by PATRICK ZIRCHER
Cover by JELENA KEVIC-
DJURDJEVIC
Meet Mr. Terror - he's dapper, he's charming, he owns and operates his own VERY successful business…and, oh yeah, he's fifteen and a half centuries old and rotting fast. Doomed to decompose for all eternity, Terror forever replaces his festering limbs with fresh parts. The curse keeps him alive, but it's what's left of his twelfth-century sweetheart - encased in enchanted metal and serving as his right arm - that keeps him honest. Today, Terror runs a high-stakes private eye firm - espionage, investigations and assassinations for the extremely rich and extremely powerful. But after eliminating who he was told was a very bad guy, with extreme prejudice and in his own inimitable idiom, Terror learns he's been had - he's just murdered a major government intelligence chief. Now, with the feds on his rancid tail and whoever set him up looking to tie their loose ends, Terror's on the run to clear his name and bring down the real bad guys. But the killers know exactly who they're dealing with, and they aren't making it easy for him… Don't miss this 5-issue series of blood, guts, sex and salvation written by David Lapham (Stray Bullets) with jaw-dropping art by Patrick Zircher (CABLE & DEADPOOL). Collecting TERROR, INC. #1-5.
120 PGS./Explicit Content …$16.99
ISBN: 978-0-7851-2756-7
HULK VS. THE MARVEL UNIVERSE TPB
Written by STAN LEE, ROGER MCKENZIE, BILL MANTLO, PETER DAVID & HOWARD MACKIE
Penciled by JACK KIRBY, MARIE SEVERIN, FRANK MILLER, SAL BUSCEMA, TODD MCFARLANE, JOHN ROMITA JR. & JORGE LUCAS
Cover by JOHN ROMITA JR.
Before WORLD WAR HULK, before PLANET HULK, the Green Goliath spent years fighting the finest the Marvel Universe has to offer! Hulk vs. the Thing! Hulk vs. Thor! Hulk vs. the Silver Surfer, Wolverine and more! Whether facing a tag-team match from the Fantastic Four and the Avengers or going one-and-one against Spider-Man and Daredevil, the Incredible Hulk's the strongest one there is no matter who his opponents are! Also featuring the X-Men, S.H.I.E.L.D. and Fin Fang Foom! Collecting FANTASTIC FOUR #25-26, JOURNEY INTO MYSTERY #112, TALES TO ASTONISH #92-93, DAREDEVIL #163, INCREDIBLE HULK #300 AND #340, PETER PARKER: SPIDER-MAN #14; and HULK VS. FIN FANG FOOM #1.
200 PGS./All Ages …$24.99
ISBN: 978-0-7851-3129-8
X-FACTOR VISIONARIES: PETER DAVID VOL. 4 TPB
Written by PETER DAVID, SHANA
DAVID & SKIP DIETZ
Penciled by JAE LEE, JOE QUESADA, CHRIS BATISTA, TERRY
SHOEMAKER & BUZZ
Cover by JOE QUESADA
X-Factor's part in the X-Cutioner's Song Saga sets them against X-Force while the life of mutual mentor Professor X hangs in the balance! The mutant teams finally rally to the same side, only to be outnumbered by three times the scheming as Apocalypse, Stryfe and Mister Sinister vie to see who can kill them first! The Horsemen, the Mutant Liberation Front and the Dark Riders are all in on a wild battleride leading to the Moon and a turning point in mutantdom's destiny! All this plus jousting in Genosha, trips into our heroes' deepest psyches and final battle with the deadliest enemies X-Factor's never heard of! Guest-starring the X-Men, Doc Samson and more! Collecting X-FACTOR #84-89 and ANNUAL #8.
136 PGS./Rated T+ …$15.99
ISBN: 978-0-7851-2745-1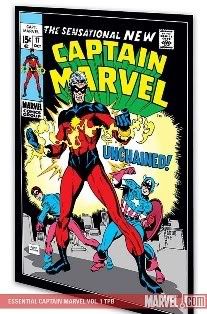 ESSENTIAL CAPTAIN MARVEL VOL. 1 TPB
Written by STAN LEE, ROY THOMAS, ARNOLD DRAKE,
GARY FRIEDRICH & ARCHIE GOODWIN
Penciled by GENE COLAN, DON HECK, DICK AYERS, FRANK SPRINGER, GARY FRIEDRICH, TOM SUTTON, GIL KANE & JOHN BUSCEMA
Cover by GIL KANE
He made a big Return during Civil War, but how'd he get here in the first place? Watch the wonders of Mar-Vell right from the start in stories reprinted for the first time in more than 25 years! Earth's newest protector faces such forgotten furies as Mandroid, Man-Slayer and the Metazoid - along with the Super-Skrull, Ronan the Accuser and more of the deadliest dynamos from three galaxies! Plus: the start of his lifelong bond, molecular and otherwise, with professional sidekick Rick Jones! But where there's Rick, can a jade-skinned giant be far behind? Also guest-starring Iron Man and Namor the Sub-Mariner - and introducing Carol Danvers, later known as Ms. Marvel! Collecting MARVEL SUPER-HEROES #12-13 and CAPTAIN MARVEL #1-21.
528 PGS./All Ages …$16.99
ISBN: 978-0-7851-3059-8
ESSENTIAL FANTASTIC FOUR VOL. 1 TPB (ALL-NEW EDITION)
Written by STAN LEE
Penciled by JACK KIRBY
Cover by JACK KIRBY
These early classic Stan Lee/Jack Kirby adventures of Marvel's First Family - the Invisible Girl, the Human Torch, the Thing and
Mr. Fantastic - defined the Marvel Age of Comics! Collecting FANTASTIC FOUR #1-20 and ANNUAL #1.
544 PGS./All Ages …$16.99
ISBN: 978-0-7851-3302-5
SPIDER-MAN BY ALEX ROSS POSTER
24x36 Color Poster…$7.99
Final Order Cut-Off 5/29, (On-Sale 6/25/08)
ASTONISHING X-MEN BY SIMONE BIANCHI
24x36 Color Poster…$7.99
FINAL ORDER CUT-OFF 5/15, (ON-SALE 6/11/08)