Check out
some original art from Harvey Kurtzman's post-
Mad
mag
Humbug
. The pieces on display are up for auction. But it that's too rich for your blood, note that Fantagraphics Books has a
two-book collection
of
Humbug
's best pieces coming out in March.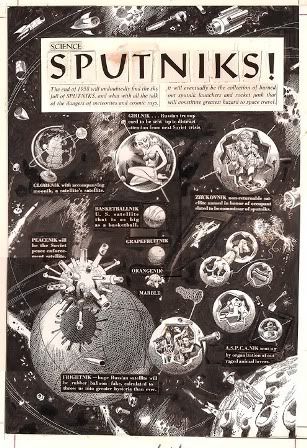 -----
British comedy and rock'n'roll: Two of my twin obsessions in one package. If you're like me, you remember hearing the Secret Policeman's Ball and Secret Policeman's Other Ball albums of the 1980s. The LPs were live recordings from benefit performances put on for Amnesty International and featured performances by all sort of people, such as most of Monty Python, Rowan Atkinson, Fry and Laurie, Pete Townshend, Peter Gabriel, Donovan, Lou Reed, Kate Bush, Eric Clapton, Jeff Beck and others. I have a vague memory of seeing at least some of these performances on video, too.
But, now, I can look forward to seeing the whole works, as Shout Factory is releasing a collection of the performances on DVD. The 3-disk set is out next week and you can
see clips from it at Amazon
.
-----
Fortress of Fortitude
presents
a classic Bernie Krigstein-illustrated crime comic, "Blind Man's Bluff."

-----
John Scott Martin, the chief Dalek operator on over 100 episodes of "Doctor Who" has
died
.
He said: "There was no special technique to make them move. You just trampled around and they glided about - a bit like a supermarket trolley.

"They didn't require much strength - but at the beginning they were wooden and they became a bit heavy at the end of the day.

"You were done for if you had to go into the countryside in a field or woods because they were difficult to move in uneven terrain.

"I would frequently topple over and I would be left screaming, 'Get me out of this thing!' The only thing you could do was put down hardboard sheets so you could glide over the top.

"The Daleks were a great success. They were the first real robotic bad guys and the first screen monsters where you didn't realise there was a person inside."
-----
R.I.P. Fathead: David "Fathead" Newman, the sax/flutist famous for his solos on many a Ray Charles track, has died. Beyond R&B, he was a great jazz player and I saw him perform in that context twice. An awesome, soulful musician. He'll be missed.
Here he takes a solo with Ray, back in 1963.